While often constructed of their same signature fabrics of Craftsman Canvas and heavy linens, the most distinguishing feature of Craftsman Workshops bedspreads was the application of a bold decorative motif placed in the center with the balance of the bedspread simply the background fabric.

As with the other textile designs, the descriptions of the projects were often more than mere product copy, much of the writing was philosophical, educational, even poetic.
"To those who are interested in this new embroidery, and have perchance a bedroom which awaits the proper note of decoration, the accompanying designs for bureau scarf, bedspread and curtains may be of value. They are based on the pasture thistle. Sitting under August skies, watching through a golden haze their purple glory, they seem to typify the joy of life,-and not, as their name in Latin signifies, "Tribulation,"--the joy that can spring up in stony places, with hardly a grain of comfort to give foothold! These purple blossoms, beloved of bees and butterflies, held in their green vases of classic shape, have been, of course, conventionalized, and fitted to their various positions. The designs shown in this article are planned for a combination of appliqué and stitching." [xx]
Folding Screens and other Textile Applications
Stickley's Craftsman textiles also graced their handsome folding screens and were specified as wall-coverings in many of the Craftsman Home plans. The inset panels on folding screens were typically covered with Craftsman Canvas with the option of a design in appliqué and embroidery on one side. There are two known designs for screen panels. One design, simply called "Screen: Rose Motif" had a single appliqué rose on the center with the balance of the pattern mostly straight lines and leaf appliqués, while the other design called "Screen: Wild Rose Motif" had a rose appliqué on each panel with leaf appliqués and more flowing lines. Both were published in The Craftsman magazine in February 1905 and appear intermittently in the catalogs however extant examples are only known of the "Rose Motif."

Illustration 8. The Craftsman, July 1905 p538
The Craftsman, Dec 1905 Conventionalized Rose bedspread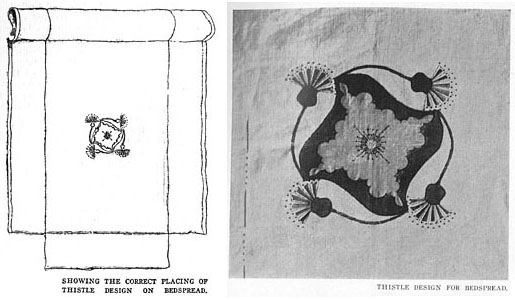 The Craftsman, October 1909, pp 97-98. Thistle Bedspread
Conclusion
While a limited number of Mr. Stickley's textiles survive today, they were produced in significant number to furnish many homes in the Craftsman aesthetic. [xxi] In May 1903, with great confidence and foresight for the many restful, friendly and comfortable homes that Mr. Stickley and his company were yet to foster, The Craftsman states, "These combinations of woods, metals and textiles, suggested for 'The Craftsman House,' if accurately followed, will produce an interior, whose charm, although, at first, apparent and even striking, will increase as changing seasons and varying days reveal accidents of light and shade, of color and tone. 'The Craftsman House' will prove itself a true home to the lover of art who shall avail himself of its offered beauty." [xxii]
[xx] The Craftsman , Vol. XVII, Number 1 (October 1909) Brinley, Kathrine Sanger, "A revival of needlecraft: some fresh suggestions for ornamenting bedroom draperies", p. 94
[xxi] See Cathers chapter on textiles in Gustav Stickley (2003) for a wealth of additional information on Stickley's textile production.
[xxii] The Craftsman , Vol. IV, No. 2 (May 1903) "The craftsman house", p. 92.
Many thanks to Barbara Fuldner, Dru Muskovin, Jo Hormuth and Tim Gleason for much advise and guidance in preparing this article.
Also, research was greatly aided by Digital Library for the Decorative Arts and Material Culture, a wonderful resource which includes The Craftsman magazine online. This is made possible by the Chipstone Foundation and is produced at the University of Wisconsin Madison General Library System.