The typical turn-of-the-century middle class home would commonly have had nearly every horizontal surface draped with fabric. English Arts & Crafts designers broke from this practice and the first house plans published in The Craftsman magazine in February 1902 followed the English convention of a single table scarf draped off-center across the dining room table.

In January 1903, Gustav Stickley attended the Arts and Crafts Exhibition Society in London and returned with two appliquéd and embroidered table scarves by English needleworker Ada Ellwood . Stickley's own exhibition later that year at The Craftsman Building in Syracuse included the Ellwood textiles, the work of American needle workers and textiles commissioned by Stickley from Angelina Hurrelle of Syracuse. [vi] A dining room at the exhibition featured a Stickley table laid with Hurrelle's table scarves "of yellow-toned linen in canvas-weave, hemstitched, and embroidered at the ends, running lengthwise and across the table.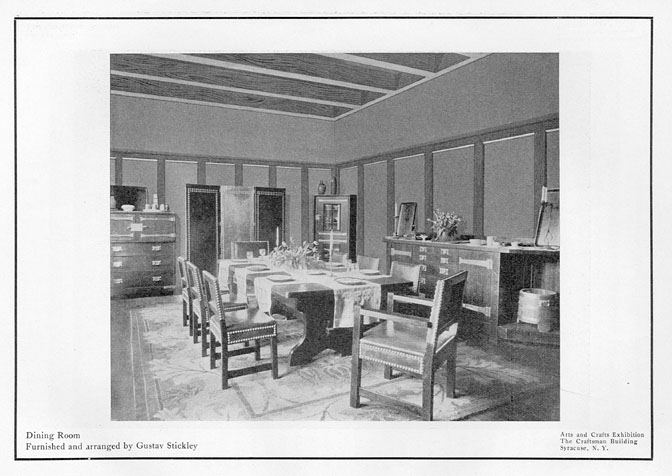 This method of setting a dining table with crossing scarves to form the place settings, if not an invention of Stickley's workshop, was certainly a conscientious effort "to leave the wood of the top largely exposed" [vii] and became a distinctive feature of the Craftsman dining room.
Table linens in the Craftsman interior accent the furniture and provide function: the body of the textile melding with the background and the decoration upon it providing cheerful notes of color and pattern. Library tables typically had a 20" wide table scarf running the length with the embroidered ends hanging down a pleasing proportion. The same scheme was typical for a sideboard, server and chest of drawers generally with a narrower, 15" wide scarf. On a round side table or lamp table, it was equally appropriate to use a round or a square linen as a centerpiece. The same is true of a round dining table for decoration between meals , and while there are some illustrations of round dining tables with two scarves crossing, in reality the ends dropping down would not lay as smoothly as the drawings suggest. In keeping with the scheme "to leave the wood of the top largely exposed" Stickley did not offer full tablecloths, but did offer luncheon sets - a square centerpiece and matching plate doilies (what we now call "placemats") .
Some Craftsman Workshops Designs for Table Scarves published in The Craftsman

February 1904, page 507

August 1905, page 704

August 1905, page 704


January 1906, page 598
Craftsman Workshops
Table Scarves from the Collection of Timothy Hansen and Dianne Ayres

Conventionalized Magnolia
22" x 85"


Horse Chestnut 19.5" x 87"


Crab Apple 17" x 56.5"

Magnolia 16" x 67"


Magnolia 19" x 90"
Illustration 2 Craftsman Magazine, February 1902
This simple linen with an indistinct geometric pattern represents the first glimmerings of textiles which the Stickley firm was yet to develop.
[v] The Craftsman , Vol. IV, No. 2 (May 1903), Sargent, Irene, "A recent arts and crafts exhibition", p. 82.
[vi] David Cathers, Gustav Stickley, Phaidon, 2003, p. 156.
[vii] The Craftsman , Vol. IV, No. 2 (May 1903), Sargent, Irene, "A recent arts and crafts exhibition", p. 82.