It is our pleasure to offer contemporary production
of textiles inspired by Arts & Crafts design. We work with collectors and enthusiasts wishing to decorate in the style as well as others who appreciate the designs and the art of handcrafts.
This "bungalow window" has sheer curtains of Ecru Linen Scrim mounted inside the frame and over-curtains of Belgian Linen with hand embroidered "Prairie Vine" design on hidden rings.
Stylized roses, poppy and ginkgo designs are popular motifs of the Arts & Crafts Movement. Our pillows and table linens are available completed or as embroidery kits.
We will be exhibiting textiles and jewelry at
the Upcoming Events
_______
Pasadena Craftsman Weekend November 9-11, 2018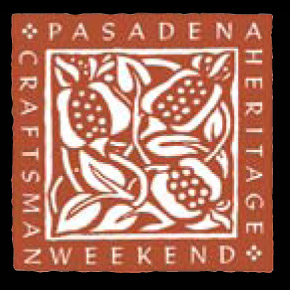 Pasadena Heritage Craftsman Weekend includes architectural tours, exhibits of antiques and contemporary artisans. For more info Pasadena Heritage.
______

Hillside Club
2018 Members' Art Show and Sale
Berkeley, California

Friday, Nov 30th 7-9pm
Saturday, Dec 1 10am - 5pm

For more info see the
Hillside Club website
____________________
February 15-17, 2019

Arts & Crafts Conference
Grove Park Inn, Asheville, North Carolina
For info call (828) 628-1915 or visit www.arts-craftsconference.com
___________________
We hope to see you there !
Some information on curtains is online (see the link above.) For the full range of options our Print catalog
and our
Full set of fabric samples
are the best way to determine the appropriate type of curtains for your home.
above: Dining table with crossing Ginkgo Table Scarves and Ginkgo long-stem Curtains
We have a limited number of our books on hand now.
An Arts & Crafts style home is distinguished as much by its friendly comfortable atmosphere as it is by its architecture, furniture and other objects.
Gustav Stickley likened the desired effect of a well designed room to the experience of nature;
"...plan and arrange the room that the sense of space and freedom is always felt, and so to preserve the relation between the natural background of the walls and floor and the more prominent furnishings in the room that each part is given its own value and falls into its own place as naturally and inevitably as the trees, hills, valleys and brooks combine in the harmonious relationship that makes a beautiful landscape."